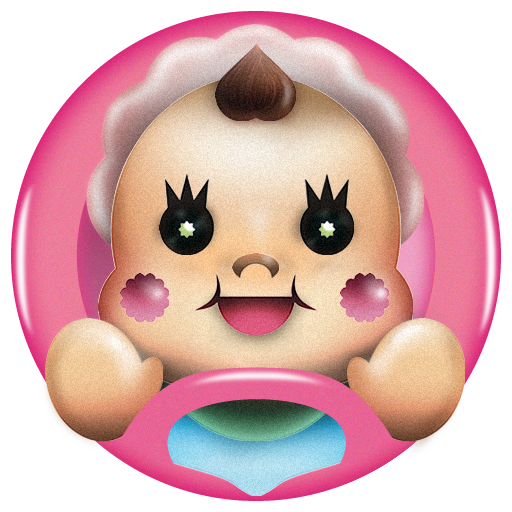 Description
****Information***********************************************************-
**
Going out is now more fun with the new baby rattle bab bab Baby Buggy brought to you in collaboration with AirBuggy.
This is the great new version designed especially for parents who enjoy pushing their baby along in a buggy.
Designed for comfort, this application can be operated with one hand leaving the other free to push the buggy and play with your child.
**************************************************************************
Baby toi is proud to present the baby rattle bab bab AirBuggy, a mysterious toy that will calm a baby in seconds. What do you usually do when your baby is restless? If you don't always have time to give your baby the constant attention they demand, why not let the baby rattle bab bab AirBuggy comfort your little one for a while?
It works just as a conventional rattle would, producing soothing sounds when tilted, inverted and, of course, rattled! The most striking difference being the brilliant visual displays, which can be controlled and manipulated by your babies curious fingers. The baby rattle bab bab AirBuggy is sure to calm even the most restless of babies! It will grasp the attention of your baby so swiftly that their tears will soon become distant memories. The secret behind the baby rattle bab bab AirBuggy is the sound technology employed, which operates at a frequency favored by babies, and the colorful motif, which stimulates the curiosity of babies with its bright and attractive movements.
You can also enjoy the rattle with your baby, using it like a maraca. Experiment with different tempos or maintain a steady rhythm in time with music.The rattle can be anywhere, anytime, and by anyone, not just your baby!
The baby rattle bab bab AirBuggy ensures that new families get much more quality time together.
【Main Features】
・A gentle noise designed to operate at a frequency favored by babies.
・A colorful motif that stimulates the curiosity of babies with attractive movements.
・Can be used anywhere with the adjustment of the volume.
【Attention】
・Turn off the manner mode before use.
・Effects differ between individuals
・Mind the sound when using the rattle on public transport and in other public areas.
・Avoid using the rattle continuously for long periods of time or in dark locations.
・Hold the rattle at a suitable distance away from the baby.
【What is baby toi?】
baby toi is a brand dedicated to helping parents communicate and interact more effectively with their newborns.
Official website:
http://baby.to-i.net/
Support and contact:
iphone@realize-mobile.com
【What is AirBuggy?】
AirBuggy is an original Japanese stroller brand which incorporates stylish three wheeler designs with light steering and easy handling for maximum comfort.
AirBuggy combines technology, style and creativity to produce unique products for unique clients and their families.
Official website:
http://www.airbuggy.com/
Total Ratings
iOS ratings are temporarily unavailable.
Screenshots
Version History
Launched Nov 24, 2009 (over 10 years ago).
Releasing new versions every 8 months, on average.
Nov 09

2011

(Current)

Version 1.3

The launch screen's link changed

Apr 13

2011

Version 1.2

・Link banner to "Pray for Japan" added.

Mar 07

2011

Version 1.1.0

・Optimized for iOS 4.2.

Nov 24

2009

Click to see more